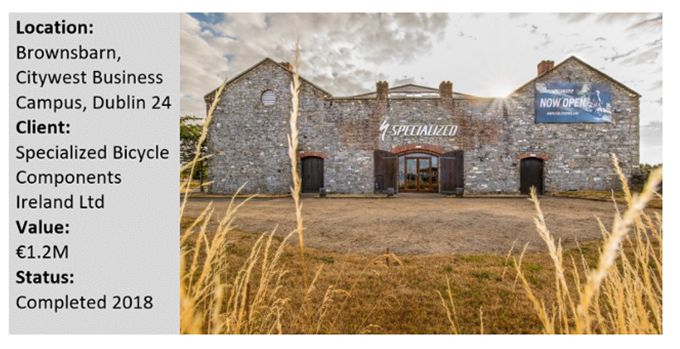 This project entailed the complete refurbishment of the 279.4 sq.m existing derelict outbuildings at ground and first floor level, for the use as a speciality bicycle retail store.
Specialized Ireland is a high-end retailer specialising in the design and sale of customised bikes and is located in the historic building (a protected structure) known as Brownsbarn on the N7 motorway just outside of Dublin City.
The interior refurbishment consisted of upgrading the courtyard to form a landscaped entrance forecourt, removal of existing lift and stairwells and provision of new internal and external stairs. Internal bar fittings and enclosures were removed to provide open and contemporary retail spaces at Ground and First Floor along with office areas and staff facilities.
The project transformed the historic building, creating a vibrant and dynamic retail space for Specialized.