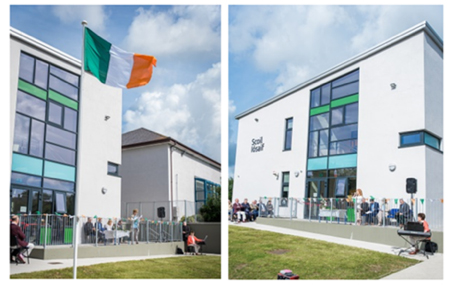 Location:
Templerainey, Arklow, Co. Wicklow
Client:
Department of Education & Skills
Value:
€2,584,000.00 Incl-.VAT
Status:
Completed September 2018
St. Joseph's National School is a co-educational, multi-denominational school located in Arklow, Co. Wicklow. This extension project involved the construction of ten mainstream classrooms and four resource rooms to replace existing prefabricated temporary accommodation units. This project required a lot of site services to be diverted to accommodate the extension and new site layout, to include gas and power.
Geaney Engineering Consultants, acting as services engineers on the project to include ancillary certifiers, provided mechanical, electrical and lift services installation design and specification as well as construction co-ordination and monitoring services for this project. BER services were also provided on this project. We dealt with all site services, utility connections, as well as any regulatory modifications required to customise the design for this specific project, as well as providing the full design & specification of the M&E installations for the extension.